The Rio Olympics has seen it's fair share of romance, with four proposals and a wedding invite.
Romance is most certainly in the air.
The first proposal of the Rio Olympics came from the first week, it was kept local when Olympic rugby sevens venue venue worker Marjorie Enya asked Brazil player Isadora Cerullo to marry her.
"The Olympic Games can look like closure but, for me, it's starting a new life with someone," said Enya. "I wanted to show people that love wins."
"As soon as I knew she was in the squad I thought I have to make this special," she said. "I know rugby people are amazing and they would embrace it."
Charlotte Dujardin won a gold medal in the individual dressage on Monday and also got engaged to long-term boyfriend. Dean Golding, was watching Dujardin compete from the stands and he wore a sign that read- "Can we get married now?"
So not only did Charlotte get engaged she retained her Olympic title- a pretty awesome day huh!
After winning her gold, Charlotte told BBC Radio 5 live: "He's already asked me. He knows it's 'yes'.
"I'm hopefully going to get married next year. I said I would get married after London but time just flew by. It's definitely on the cards now."
Dujardin said she has no plans to stop competing but paid huge tribute to the 14-year-old horse who is heading into retirement after a glittering equestrian career.
"As I went into the arena and trotted around the outside it was like he held my hand," she said.
"I could feel it. And it just made me feel so reassured. I felt I'm fine, I can do this."
Dujardin later confirmed this was not a proposal, as the couple are already engaged – simply an expression of impatience.
Romance also entered the Olympic pool in Rio when Chinese diver He Zi was on the podium collecting her silver medal for the women's 3m springboard.
When her boyfriend and fellow diver Qin Kai proposed in front of a stunned arena.
She nodded.
However, the proposal has received some criticism. Even though the crowd in the aquatic centre loved it, there was speculation if He Zi did.
The Olympian had tears in her eyes, yet a smile took a lot longer to appear. She eventually said yes to her boyfriend of six years, but since it's all anyone has spoken about causing divided opinions.
China, is fast becoming a country where unusual marriage proposals are widely shared and commented upon. Some believed this to be the most "romantic gesture of a lifetime".
Whilst others remained sceptical, commenting "what a way to add pressure" and "If she rejects his offer of marriage, she will be labelled a cruel person by billions around the world, watching. It may be masked as romantic but I feel otherwise."
Cupid then found love struck British couple, consisting of race walker Tom Bosworth and his boyfriend Harry Dineley! Bosworth proposed on the Copacabana.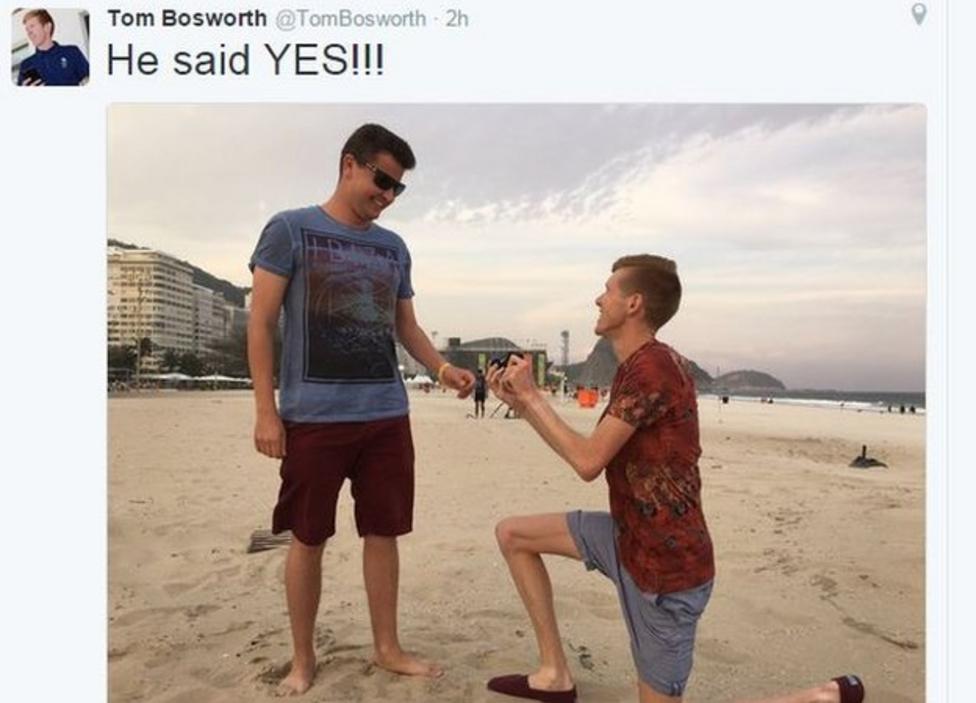 BBC presenter Dan Walker has been invited to the wedding of the woman whose hen do gatecrashed his live Olympics broadcast.
Walker was unexpectedly joined by Maria de Cezar while presenting live on BBC Four from Copacabana beach, and after she joined him for an impromptu on-air chat to discuss her wedding, she has invited him to next month's ceremony.

Has their ever been more ravishing romance than at Rio? I think not. Cute-eh!